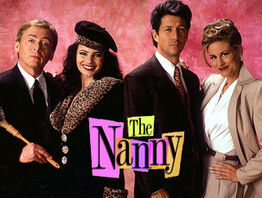 The Nanny is primarily based upon the story of nasal-voiced Fran Fine (played by Fran Drescher) who is from Flushing, Queens. Fran appears at the doorstep of a wealthy widowed Englishman, Broadway theatrical producer Maxwell Sheffield (Charles Shaughnessy), while selling cosmetics. Fran has just been fired from her job as a bridal consultant by her ex-fiancé, Danny, and Maxwell mistakenly believes that she has been sent by a nanny agency and quickly hires her to be nanny to his three kids. Fran, with her nontraditional nurturing style and no-nonsense honesty, soon becomes a favorite with the kids as well as Maxwell, as they come to respect her opinions and love her as a person. It is a situation of blue collar meets blue blood, as Fran gives the prim-and-proper Maxwell and his children a dose of "Queens logic", helping them to become a healthy, happy family.
Proudly running the Sheffield household is the butler, Niles (Daniel Davis), who watches all events with a bemused eye and levels problems with his quick wit. Niles quickly recognizes Fran's gift for bringing warmth into the family and becomes fast friends with her. He does his best to undermine Maxwell's socialite business partner, C. C. Babcock (Lauren Lane), in their ongoing game of one-upmanship. C. C. views Fran with a mixture of skepticism and jealousy, as they both have designs on the very available Mr. Sheffield.
Perpetually hovering close by are Fran's stereotypically obsessive and food-loving "Jewish mother" Sylvia (Renée Taylor); her rarely-seen but often-mentioned father Morty; her cigarette-addicted senile grandmother Yetta (Ann Guilbert), dispensing nonsensical advice and often erroneously believing Mr.Sheffield to already be Fran's husband and his children to be hers as well (a belief she does not keep to herself); and Fran's dim-witted best friend Val (Rachel Chagall), keeping her company on the perpetual quest for a husband and constantly reminding Fran how things can always get worse (as Val has much less luck than Fran).
Community content is available under
CC-BY-SA
unless otherwise noted.